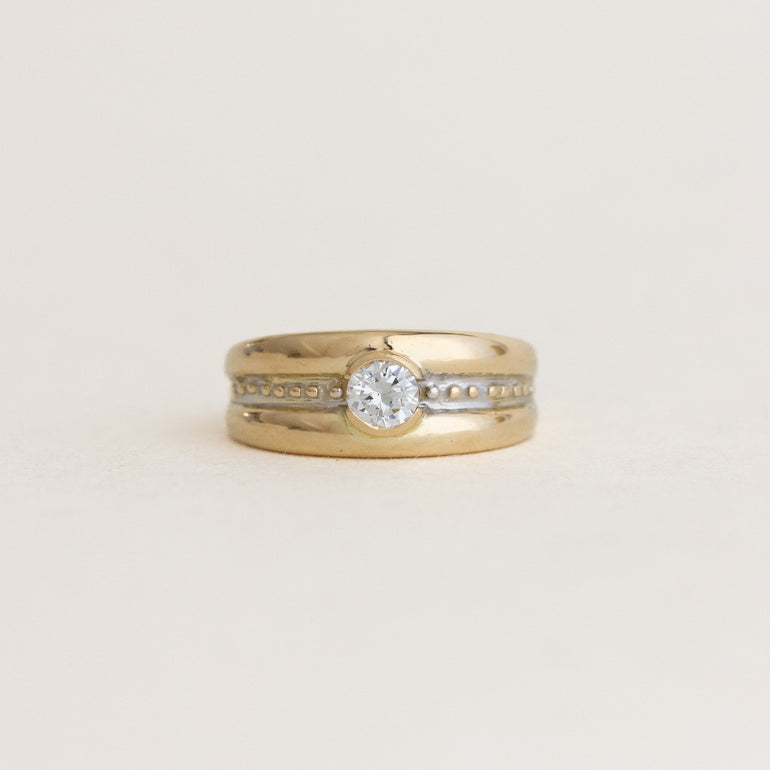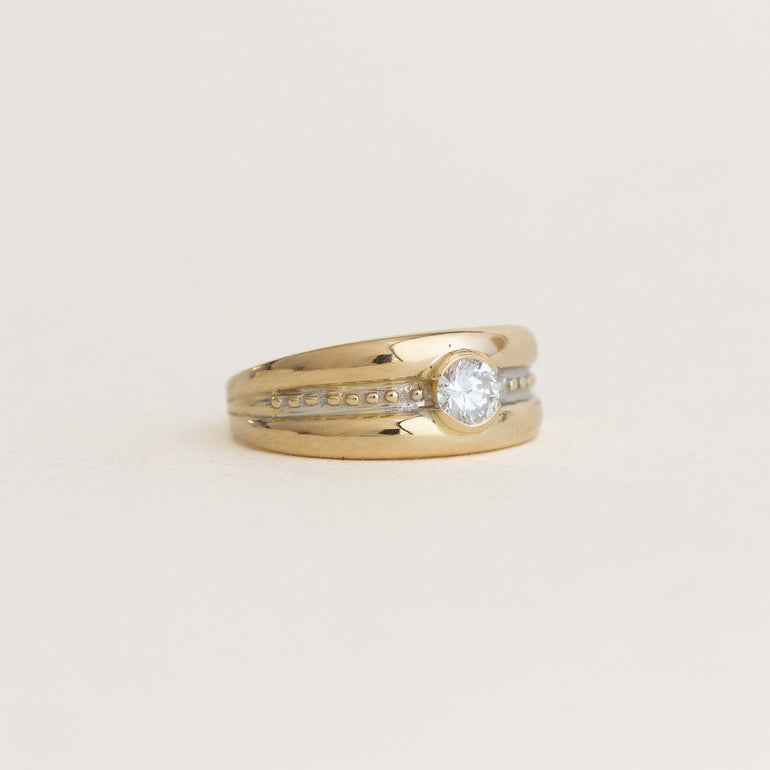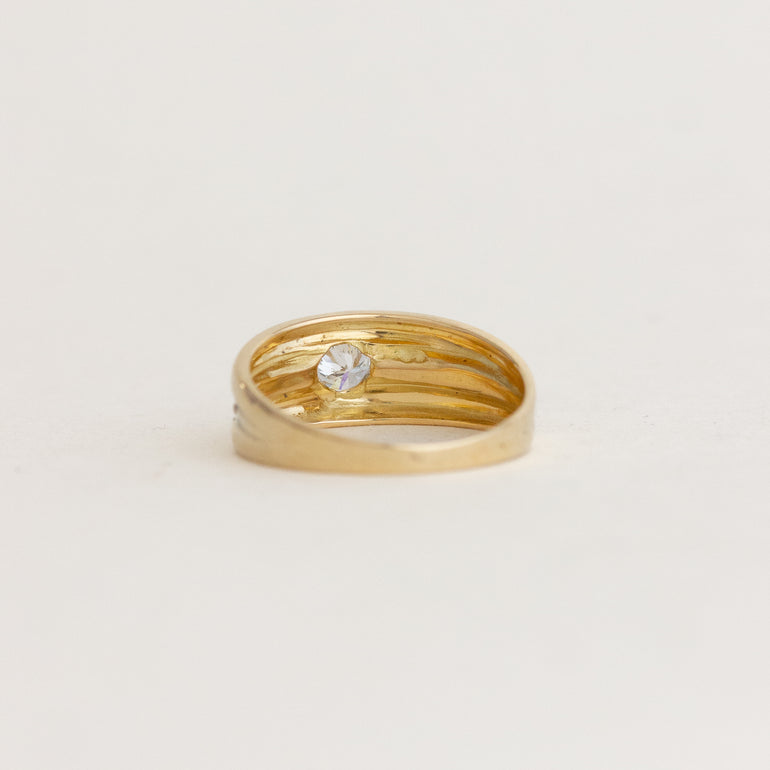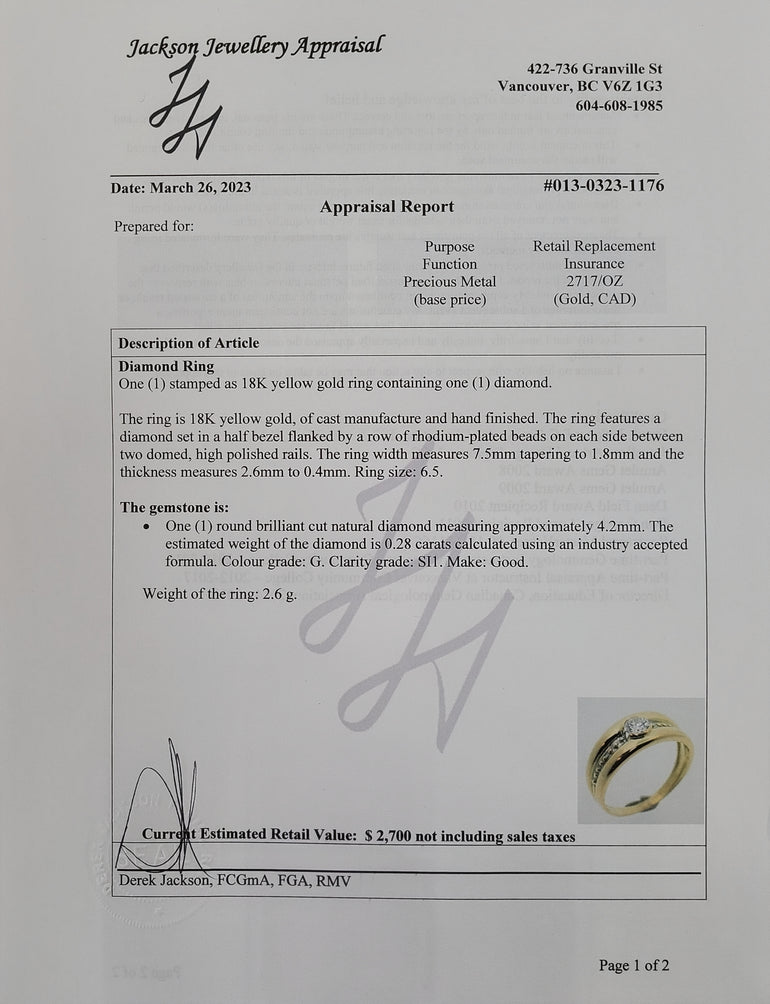 Description
Chunky Half Bezel Vintage Diamond Ring

Wen is a vintage ring with a modern style. A round brilliant cut diamond in a contemporary semi-bezel setting with milgrain detail set in warm 18k yellow gold. Wen's distinct details and high dome design is both dynamic and practical.
The appraisal of the vintage ring is attached as one of the images; there you will find detailed information about the ring, as well as the appraised value of the ring at $2,700 CAD. The appraisal is included with the purchase of the ring to aid in the insurance process if you choose to insure (which you should!).
Details & Dimensions
• Centre Stone: Natural Diamond
• Shape: Round, Brilliant-cut
• Size: 4.2mm approximately
• Weight: 0.28ct approximately
• Colour: G
• Clarity: SI1
• Make: Good
• Gold: 18K Yellow Gold
• Band Width: 7.5mm tapering to 1.8mm approximately
• Band Thickness: 2.6mm tapering to 0.4mm approximately
• Ring Weight: 2.6g
• Ring Size: 6.5 (can be resized 3 sizes up or down)
Customize Your Ring
MODIFY THE RING:

If any of our ring designs are close
to what you are looking for, though not exactly, we would be happy to
work with you to modify the ring design to suit your needs. As well, in
most of our ring listings, we offer a selection of centre stone options.
However, if there is a specific stone you are after, we would be glad
to source the perfect stone for you. Please contact us with your ideas, and we will see what we can do!
DIAMOND CENTRE STONE: 

A traditional white diamond can be
placed as the centre stone in most of our ring designs. A selection of
our ring listings offer this option under the Centre Stone dropdown,
while the ring listings without will require a custom order be placed,
as sourcing the diamond will be more particular, as there are many
traits and qualities to consider that vary from stone to stone, and
range greatly in price. For more information on diamonds, visit our diamond guide. To inquire about a custom ring order, please refer here.
NATURALLY OCCURRING GEMSTONES: 

Each natural stone that we source is
unique. As with all naturally occurring gemstones, variations in colour
and clarity are fully expected—and exactly what makes each stone so
distinctly its own. The stone(s) pictured are the reference we use when
sourcing stones, however, if you have a particular shade in mind, reach
out and our team would love to work with you to select the perfect stone
for your ring
Engraving
Engraving is available for most of our rings. The engraving image
features the 'Bookman Old Style' font. If you are interested in a custom
font or a custom engraving design, please send us an email at
hello@evorden.com
Production Timeline, Shipping, & Import Duties
All rings and fine jewellery, aside from vintage pieces, are made to order.
 ENGAGEMENT RINGS AND WEDDING BANDS
Once the order is placed, the design finalized, and the stone
selected, production will begin and typically take 6-8 weeks. Please
contact us if you need the ring sooner than 8 weeks; 3-6 weeks turn
around time is often possible with an added rush fee.
Shipping is $60 within Canada/USA, and $85 to anywhere else in the
world. When your ring is ready, it will ship via express post (1-3
business days within Canada/USA; 2-10 business days internationally);
insured coverage of the ring while shipping is included. Tracking
information will be provided once the ring is on its way!
 EVERYDAY FINE JEWELLERY
Everyday Fine Jewellery production timeline is 3-4 weeks. All
shipping methods are insured. Tracking information will be provided once
your order is on its way!
 VINTAGE FINE JEWELLERY
Vintage Fine Jewellery will be shipped out within 1-2 weeks. All
shipping methods are insured. Tracking information will be provided once
your order is on its way!
 IMPORT DUTIES
Please note that all countries will charge import duties/taxes on
goods made and purchased abroad, i.e. outside of Canada. The total
tariff will be based on the declared value of your purchase which we are
required to include with your shipping documents. The tax rate imposed
on packages varies from country to country and it is the sole
responsibility of the buyer to gather this information and budget
accordingly. Outstanding duties will be brokered and charged via DHL
when your package arrives at customs in your country. The duties must be
paid in full before your shipment is allowed to clear customs for
delivery to its final destination.
Exchange/Return Policy
All engagement rings and wedding bands are custom made to
order and are therefore non-exchangeable and non-refundable.

All vintage jewellery is final sale, non-exchangeable and non-refundable.

Evorden Everyday collection pieces (excluding earrings) are eligible for
exchange within 14-days of receiving them. All earrings are final sale,
non-exchangeable and non-refundable.